Solaris wins at the 2018 Professional Planner | Zenith Fund Awards
The 2018 winners of the Professional Planner | Zenith Fund Awards were announced during an event in the Ivy Ballroom in Sydney on Friday 5th of October.
The prestigious annual awards recognise excellence in funds management, as judged by Zenith's robust methodology, which examines each manager's investment philosophy, the expertise of the investment team, the investment process, portfolio construction, risk management and performance.
Solaris Investment Management won the Australian equities – alternative category against a highly competitive field.
Chief Investment Officer, Sean Martin, said: "It was a huge honour to win the award, and fantastic recognition for the entire Solaris team and the returs generated by them. Solaris runs the Long Short fun with a strong focus on risk management and this approach, combined with the team's 18 year history of generating alpha for clients, has underwritten the strong returns generated to date and also ensures we are very optimistic and excited about the fund's future."
Zenith Investment Partners general manager & head of research, Bronwen Moncrieff explained it was particularly difficult for active managers in some sectors to outperform this year, due to historically low volatility, and the winners had done exceptionally well.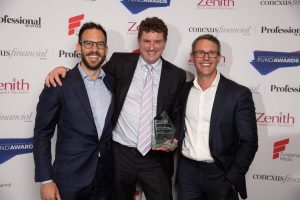 From Left to Right: Gus Roberts, Sean Martin and Damien Keune of the Solaris Australian Equity Long Short Fund Investment Team